A former pro off-road motorcycle racer who has podiumed at the famed Dakar Rally and Baja 1000, Jimmy Lewis will serve as the Course Director for the Rebelle Rally. In the months leading up to the Rebelle, Jimmy–who knows the deserts of the American West like the back of his hand–combed the back roads of Nevada and southern California, drawing up the course.
Jimmy and his wife, Heather, a forensic scientist in Orange County, split their time between Costa Mesa, California and Pahrump, Nevada, where they run an off-road motorcycle school.
We caught up with Jimmy to learn more about his off-road experience and what competitors can look forward to during the inaugural Rebelle event.
What kind of motorsport experience do you have (and what does that mean to you, heading into this event)?
I grew up in Southern California and lived out in the sticks. I had friends that had mini-bikes. I knew that riding was all I wanted to do. It was one of those things, once I rode a bike, I had to go ride all the time. I started racing motocross but then switched to off-road. I became one of the top guys and raced pro off-road my whole career. It lasted a long time, 15 years, everything from enduro to racing Baja and Dakar. I was able to do a lot of riding that involved exploring. I got to ride all over the world. I was always fascinated by just being out in the open and exploring.
How did you hear about the Rebelle Rally (and what made you want to be part of it)?
Emily Miller approached me one day at King of the Hammers and said she had this crazy idea. That's how most of these things I get involved with start. We started talking about the areas where she was planning the Rebelle to go, and I know that terrain like the back of my hand. She said, "Perfect, you're hired."
I like the whole idea of navigation based events. Helping with the Rebelle has been a chance for me to re-learn navigation at a higher level. I think it's cool that competitors are going to see all these remote places in the West. I've run the course several times now, setting things up and scoping the terrain. It's merged my hobby with a job.
What are some of your racing career highlights?

I've raced the Baja 1000 over 10 times during my career. I won the overall in 1998 teamed with Johnny Campbell on a Honda XR 600, beating Ivan Stewart in his truck.
I did the Dakar Rally in 1996, 1997, 2000 and 2001. I got third overall in 2000. I was the only guy to win the single cylinder class and the twin cylinder class, but not win the overall.
I also have four International Six Days of Enduro gold medals, which is like the Olympics for motorcycling.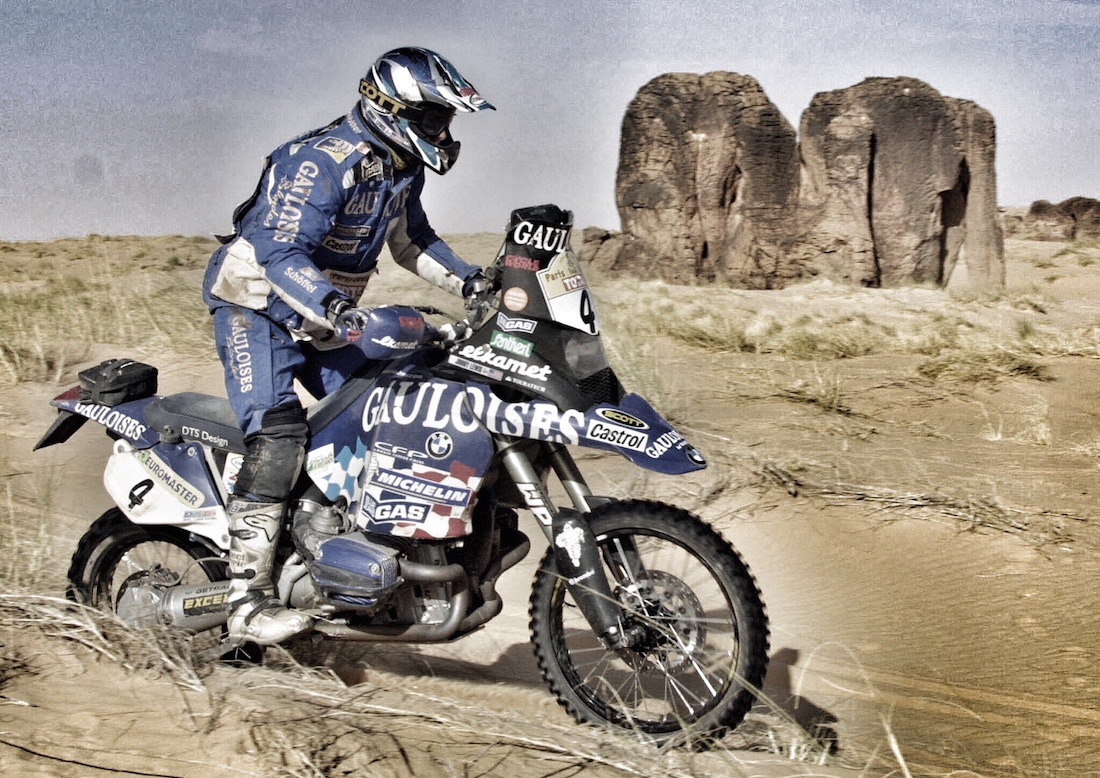 What is your current occupation and what does that mean to you?
I teach off-road motorcycle rider training. We have a school based out of Pahrump, Nevada, over the hill from Las Vegas, it's called, Jimmy Lewis Off-Road Training. We also run an off-road motorcycle product-testing site, called DirtBiketest.com. We do a lot of motocross product testing, that's my second day job.
What are your passions outside of work? Besides your occupation, what makes you tick? Do you have creative interests? Other sports that you do?
My second main hobby is drinking beer and running, seriously. It's called hashing. It's like a drinking club with a running problem. I'm also working on my beer mile time. You drink a beer and run a lap, you basically drink four beers over the course of one mile. Lately, I've been obsessed with it, although it's hard on the belly and liver. My fastest time is 8 minutes and 20 seconds, but there are guys doing it in under 5 minutes. Check it out… Beermile.com.
Please describe your role at the Rebelle Rally?
As the Course Director, I worked with Emily Miller before the rally designing the course. She had the more global idea, general routes, and where the base camps would be, and I helped with more specifics, like knowing which routes were possible by what kinds of vehicles, basically refining the course. I'm in charge of making sure people are at the proper locations and making sure the checkpoints are in place. I will be coordinating with safety officials and the search and rescue teams.
Why were you selected for this position? And why did you say "yes" to being involved?
Hopefully, because I know what I'm doing, haha. It sounded like fun. I mean, I'm one of the few guys who gets to be out with 140 women in the middle of the desert. I don't know if it's a good thing or not, haha. When I was training for off-road, I was always riding around the deserts of the American West. I'm familiar with what's out there. It's kind of second nature. I can't remember someone's name or face but I can remember every rock out in the desert.
How will women competing in the Rebelle interact with you during the Rally?
Hopefully they won't, because if I'm talking to them there is a problem. Largely with what we have done, it should be done and finished by the event. The route on the ground isn't going to change, only how teams interpret it.
You helped design the course in the lead up—what is special about the terrain the competitors will encounter on the Rebelle?
The one thing that is really special, if you haven't been involved in some of the land use issues, is the fact that we have an event that starts in Lake Tahoe and finishes in San Diego and the vast majority is on legal off-road trails. The scope of that is pretty far reaching. Having a rally in the United States is kind of unheard of especially one that is longer than one day. Competitors will go through a lot of different desert terrain and every day has a different feel from open roads to sand dunes to rough technical driving sections. It's going to be visually stimulating and mentally challenging.
What are some of the challenges of being course director for an event like this?
We always want to do more than we are allowed. There are a lot of restrictions in what we are able to do with land, and we have to make the most of it. Emily has done a good job of working with land managers to get everyone on board.
You have competed in iconic events like the Dakar Rally. What does the Rebelle have in common with it? What makes it unique?
I think what it's going to have in common, is that it's really going to test the driver and navigator. Some days the driving will be easier, than there will be days when the driving will be more challenging. There will be hardships. It's going to boil down to what the person is really made off. It's like the life stories on the Dakar. You will see a lot of frustration and anger, but that's what makes the event what it is.
Drawing on your years of off-road competition, what advice would you pass along to teams competing in their first car event?
Aim to finish—your only goal in the beginning is to finish, not to get caught up in competing. As you get your flow, then you can decide where you are going to take risks. You have to keep it together for a long time.