We were thrilled to have to chance to sit down with Pirelli North America's Chief Technical Officer Ian Coke recently. After 36 years of working for the tire company, to say Ian knows tires is a vast understatement. His expertise is indisputable, and we couldn't wait to ask him about everything he knows – well, almost everything. We had so many questions for Ian but limited ourselves to less than ten!
Read on for Ian's perspective on what to look for while tire shopping, what sets Pirelli apart from the rest including their commitment to a full life cycle strategy of a tire, and what's to come for the company – plus a very big anniversary.
Pirelli is so much more than a tire brand for luxury vehicles. Can you fill us in on the full range of tires for SUVs and CUVs?
It's true that we have a good track record in sports cars and other "exotic" vehicles, but Pirelli is more than that. The Pirelli catalog includes the Pirelli Scorpion™ product family dedicated to SUVs/CUVs/pickups. Few months ago we launched the Scorpion AS Plus 3, a new product exclusively developed to meet the needs of North American drivers, in particular the demand for durable tires, capable of covering many miles with great handling. The Scorpion™ AS Plus 3 was developed to offer extra mileage: it provides a 70,000 mile limited treadwear warranty which places it among the best in class in its category.
We then have our performance-oriented tread pattern, launched in 2018: the Scorpion Zero All Season which has been very popular on high-end SUV and CUV vehicles. Its replacement market counterpart, with a 50,000-mile warranty and excellent dry and wet performance, is the Scorpion Zero All Season Plus. Finally, we have the Scorpion All Terrain Plus also launched in 2018, an on/off-road tire that receives great reviews for off road performance with aggressive shoulders and tread blocks, combined with quiet and comfortable on road manners. And these were the tires used during the Rebelle Rally.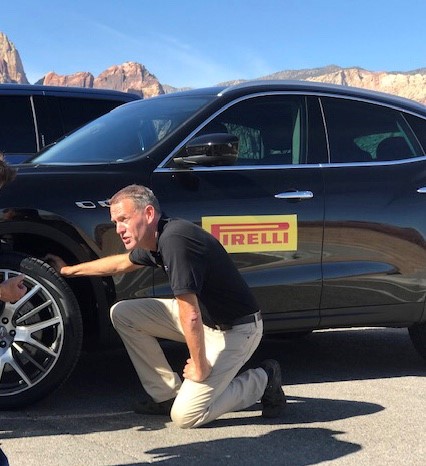 Tell us about Pirelli's steps to making the tires more environmentally friendly
We fully commit to a full life-cycle strategy from material sourcing to material recycling at the tire end of life, supporting a circular economy and launching new technology to promote the safety and health of the people using our products.
To give you an idea, we have been the first company in the world to certify a plant (by the way in Rome USA) and produce a range of FSC certified tires, a forest stewardship certification that evaluates and ensures each step in the supply chain from the raw material sourcing is managed in a way that preserves biological diversity and benefits the lives of local people and workers, while ensuring economic viability. These tires are found first as an exclusive fitment on the new BMW X5 Plug-in-Hybrid.
We are also the only auto component company in the world to be given the 2021 S&P Global Gold Class award for sustainability.
What three questions should someone ask themselves when searching for their next set of tires?
1.      I would ask you if you like the tires you had on the vehicle. If the vehicle was new then you know these tires were specifically designed to enhance the performance of the vehicle but necessarily aligned with where you live or your driving style. If you like them then ok but if not then ask yourself …
2.      If you want to change then what's your driving style and expectation from your tires? More mileage? More comfort? More performance?
3.      Where do you live and what climate will you be driving in? It doesn't have to snow to start using winter tires to optimize your safety for example.
Pirelli is coming up on a big anniversary. Tell us what this means to the company
On January 28th we turn 150! It is definitely a big milestone, one that we are proud of. We will continue our mission to lead sustainability activities in our industry and maintain our leadership as a social and environmentally responsible tire manufacturer. Our target is to continue to diversify our product offerings with our leading edge technology and innovations, focused around the future of vehicles; electric platforms, connected vehicle information systems, and autonomous driving capabilities.
We encourage you to visit our website and follow us on our various social media channels to remain up to date with what we have prepared for this major milestone.
Aside from tires for four-wheel vehicles, what other products can consumers find from Pirelli?
Pirelli has a full range for all vehicles including Summer, All Season, and Winter tires. Covering Supercars, Performance cars, Family sedans, People carriers, CUV's and SUV's and Light Trucks. We also lead the market in homologations for EV vehicles. We also have 2 excellent brands for Motorbikes as well as a brand new line Bicycle tires.
Any new products you can fill us in on? (Or at least a little hint?) 🙂
Without giving too much away Pirelli is focused on innovation and sustainability and these for sure are the drivers for future product development on top of performance DNA. Developing products for the new generation of EV platforms to optimize the driving experience as well as tire performance characteristics combing technology where the tires themselves are connected to the vehicle management systems. This combined with the use of even more sustainable materials and processes to firmly position Pirelli as a leader in this field.
The new Scorpion™ All Terrain Plus is designed to deliver optimal off-road performance. Tell us more about what goes into this.
The new Scorpion All Terrain Plus presents an aggressive tread pattern with a robust carcass that makes it the perfect fit for safe and comfortable long distance driving. It is designed to deliver optimal off-road performance even on tough surfaces like rocks, snow, mud, grass and sand. Thanks to its specifically designed tread pattern, the Scorpion All Terrain Plus efficiently evacuates water, digs mud, and ejects stones under the footprint. It is suitable for tough off-road conditions (like the ones that Rebelle Rally's competitors face off) thanks to its reinforced sidewall and the shape of its blocks. It is marked with the three-peak mountain snowflake (3PMSF) and M+S symbols. A 3PMSF symbol indicates the tire meets the criteria to be considered severe snow rated, while the M+S marking means that the tire meets the Rubber Manufacturers Association (RMA) guidelines for a mud and snow tire.
What's the best part about working for Pirelli?
Great question and after 36 years not so easy to put in a few words but maybe firstly I can say that since I started Pirelli has always given me the opportunity to grow and test myself in a multitude of roles across the globe. If you are willing to challenge yourself then Pirelli is up to the challenge. Now though the best part is being to grow and mentor the next generations of talent for Pirelli for which I feel extremely privileged.
Pirelli has so many events to choose from – why the Rebelle?
Its true Pirelli's proud heritage in Motorsport and performance may make any Rally an easy choice for our products but the Rebelle rally for us is so much more. Its focus on team work, determination and fun embedded under such core values on diversity , empowerment and sustainability resonated strongly within the Pirelli team.
The competition is the perfect proving ground for our Scorpion™ range: in particular, the Scorpion™ ATR and the Scorpion™ All Terrain Plus. These two products are Pirelli's flagship light truck tires, developed for drivers of SUVs, pickups, and crossovers who want to strike a balance between on-road performance and off-road capability with no compromises.
Pirelli also shares the Rebelle Rally's commitment to sustainability.