This year, the Stout Tents that lined four Rebelle Rally basecamps were anything but easy to miss. Standing out amongst the desert terrain were beautifully crafted, canvas, beige glamping tents. A first on the Rebelle Rally and something eagerly anticipated amongst our guests. And we have the crew at Stout Tent to thank, who stepped up this year to become first-time glamping partner of the Rebelle Rally. Not knowing exactly what they were getting into, Stout Tent not only supported the rally with ample, insanely cool housing for special guests and media, they also sent a staff member to ride along with the Rebelle, set up and tear down the tents. Talk about next-level partnership. And Stout's enthusiasm for the Rebelle is matched – Stout Tent has been a favorite of the Rebelle since 2016, when a lone Stout Tent became the place to be for staff to eat, mingle, and rest during the first rally.
We were thrilled to speak with with Director Caitlyn Stout to get her perspective on the world of glamping, her impressive event resumé, and Stout's authentic place in it all.
For lack of better words, we're obsessed with Stout Tents. Where did the inspiration come from to begin this business?
Wow! Thanks so much for that! You know, it was a crazy thing. I am an entrepreneur who did a stint in the corporate world, and was looking for a new business to make my own. My dream was to be able to work with my husband and not have a ceiling! The idea was inspired by a European magazine featuring gorgeous outdoor activities. I saw this family with a canvas tent at the beach, and wanted to order one for my backyard. When I couldn't find one in the States, I saw an opportunity and we decided to make our own! We were fortunate enough to invest in a great photographer, awesome canvas, and the market took it from there!
How did you go about the design process, from the initial basic tents all the way up to the glamping packages?
We've always tried to work really hard to get to know what our customer's need, and then provide it for them. We knew that everyone wants high quality, but we started to realize that we needed a few other features. One of the first things we did was to make a mesh 360 degree window all the way around the bottom wall of the tent for ventilation, and then a versatile stove jack that would work with a variety of wood burning stoves. It helps that we use our product day in and out for large rentals (events), we really get to know what might make life easier for people in the industry. We just love our B2B customers, and get super excited to bring them new accessories that will make their lives easier!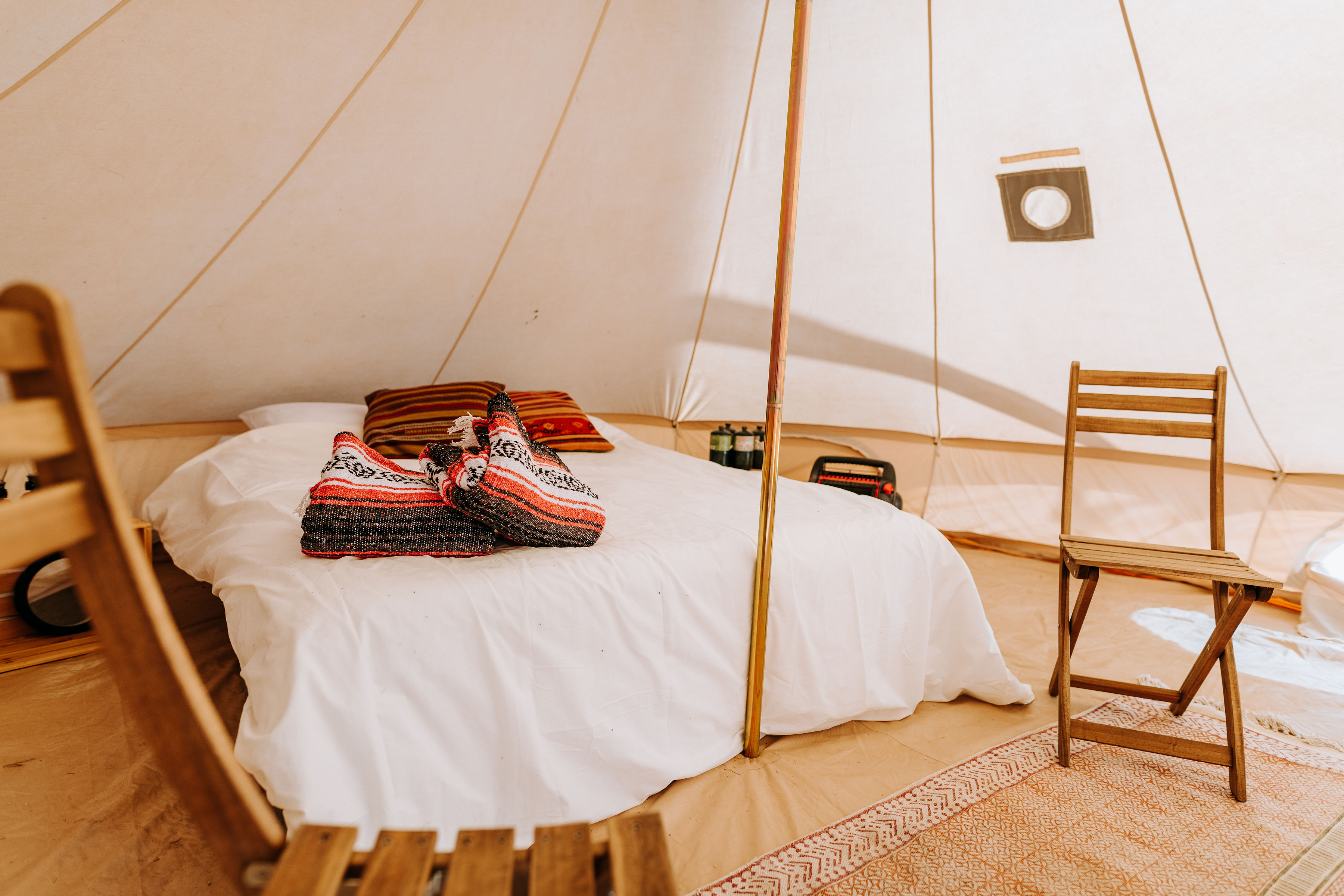 What sets Stout Tents apart from other glamping?

We make it really easy for our customers, which is really the whole point of glamping – comfort and ease! We've set up thousands of tents and produced well over 100 events. Experience is a game changer in this industry. The biggest variable is that you're at the mercy of natural elements that you can't plan for. You have to know how to problem solve in the moment AND keep your clients happy despite those variables. That's something you can only learn from experience. On a practical side, we make the process easy from start to finish. Our customers know exactly what to expect and add a lot of little touches along the way, like we even set up private URLs so that their guests can book their own tents, just like they would a hotel room! We assist with staffing events, and we have lots of options, including Giant Tipi Style tents, Safari Glamping Bath Suites (yes, shower in a rad tent with hot water and a porcelain toilet!), AC units, heaters, and even portable hot tubs! It's the whole package really. When you work with Stout Tent, you just feel confident you're working with professionals. 
Does Stout provide glamping services and set-up nationwide, or only in certain regional areas?
We have had events in 29 states, including Hawaii! We're hoping to make it to all 50, so if you know anyone in the South (MI, LA, AL… ) that needs our help, let us know!! 🙂 
Where's the most interesting event you've set up thus far?
Well, Hawaii was interesting, but I think that the Toyota Hotel Tacoma events have always been the most mind-blowing! We built 50 wooden platforms in a few days to support 50 safari tents over boulders on a mountain called Hualapai in Arizona, and we took over a Boy Scout camp on the Oregon coast another year, sewing doors for the wooden cabins, and debuting our tented restroom units! 
You have so many events to choose from. Why the Rebelle?
We have been fan-girling over the Rebelle since year one! We are adventurer's and many of us are into overlanding and off-roading! We're hoping that we can get a Stout team together someday and join the fun! 
What's next for Stout?
We acquired a competitor this year, ConTENTment Camping that was founded by Patricia Jensen about 10 years ago. Pat has been a mentor and advisor for a few years, and we jumped at the chance to carry her torch. ConTENTment is the main Glamping tent vendor for the Music Festival world, so this year you'll be able to catch us at Bonaroo, Electric Forest, FireFly, Lightning in a Bottle and more! We're also taking over a few NASCAR and Moto events. 
Lastly, any words of wisdom?
Ah, you don't need my wisdom! You guys inspire me! I love seeing women being fierce, taking (calculated) risks, having fun and getting a little dirty. Can't wait to follow-along on this year's adventure!