Yes We Cayenne! Kicking off Tuesday with a team not only piloting a Porsche Cayenne in the Rebelle, but both women behind the dash are Cayenne owners. Fired up to be putting their vehicle of choice out in the desert terrain with us next month, please welcome in today's Team Tuesday Jen Bersch and Michele Hanson!
Jen is a 4th generation Alaskan and has spent every summer on a family homestead in Kachemak Bay, and winters in Anchorage. Her two adult children live in Anchorage as well as her grandson. Her love for motorsports started at age 41, and she hasn't stopped since. Driving fast, but with precision, she started with autocross, and moved into road rally as both a driver and navigator.
Michele lives in Atlanta, GA where she's been homeschooling her kids the past eighteen years. And now that they're headed off into adulthood, it's time to start hitting her goals – and the Rebelle Rally is one of them! She's also a big fan of her Cayenne. Learning to drive a completely different set up than her last vehicle has been a ton of challenge – and equal parts fun.
Want to learn more about Team #116? Keep reading!
Hometown/Current town:
Jen: Homer, AK
Michele: A Yankee living in Atlanta, GA.
Favorite Food:
Jen: I've been a vegetarian since I was 13, but I have a weakness for french fries! Alaska grows some pretty amazing potatoes and I love to make my own in my air fryer!
Michele: In season watermelon.
Something only your best friend knows about you:
Michele: Where the bodies are buried.
Favorite place ever:
Jen: Our family homestead is off grid living at it's best. No real cell reception, and 30 min from Homer. Growing up we had no electricity (my dad watched his Sunday football on a small TV hooked to a car battery), and now with the advent of solar we have been able to harness that to power a huge part of our homes. It's my happy place, and is 100% why I chose to run an eco friendly business.
Michele: Maui, HI.
Why did you pick the vehicle you're competing in?
Jen: Michele and I have the same car! I love and trust the capabilities of this vehicle, and know I can be of help in any driving situation.
Michele: I had gone wheeling with some guys with modified Cayennes and I was surprised by how capable they were. Then when we went to leave, they slid into their plush interiors, turned their warming seats on and cruised home in comfort. Meanwhile, I froze in my TJ with a spring sticking in my butt from my seat and battled the shakes, wind and road noise. Decided then that I wanted a change. The last year of building it, being involved in the community and learning to drive a completely different set up has been more challenging and fun than I've had in a long time.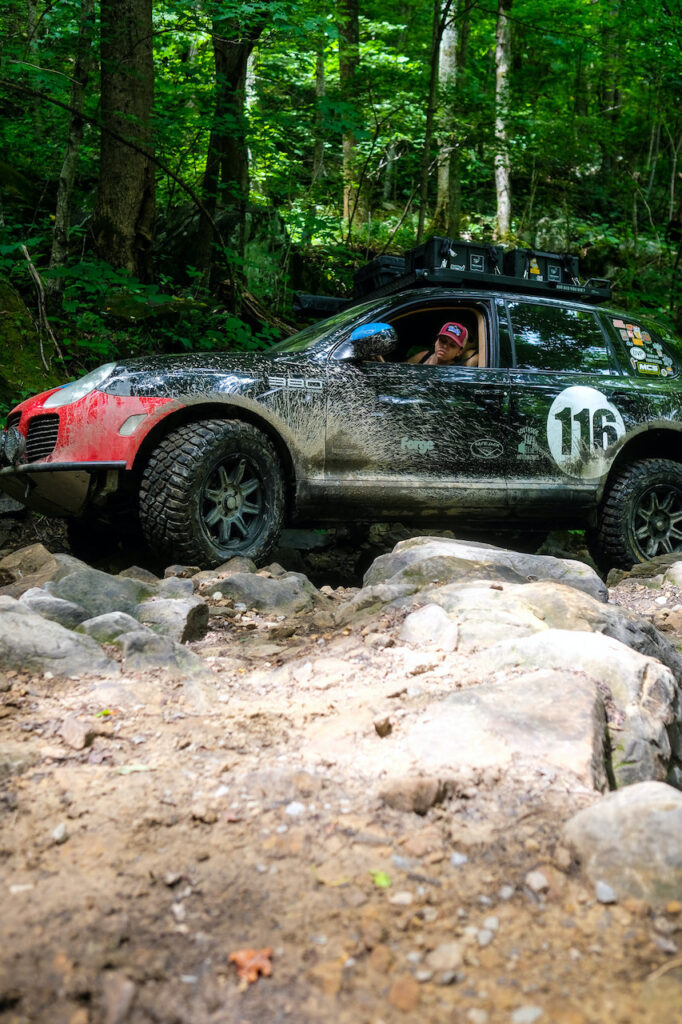 Why the Rebelle? 
Jen: I wanted to push myself farther than I ever had, and do something big before I turn 50 next year. I've spent my life putting others needs first, and I just wanted to prove that my strength doesn't always have to come from the struggle of my life balance, but of something entirely mine that can let me use these strengths to accomplish hard seemly unattainable things.
Michele: I've been a homeschooling mom to my two teens for the last 18 years. As that phase of my life ends and my kids transition to adulthood, I am left with the vast question of "what do I want to do next?" So I've been looking for opportunities that pull me in. Last year, while watching Rebelle, I immediately wanted to do it. It felt a little too big, a little too challenging, a little too much outside my comfort zone and therefore exactly what I wanted to do. I set it as a goal for 2022. But fate and Facebook had other plans. I had posted "Goal for 2022" and a link to Rebelle on facebook and immediately had a company come forward and say that if I did it, they'd sponsor me. We've been full speed ahead ever since!
Any shout-outs you'd like to make while you have our attention?
Jen: To my husband, who is the one who got me into motor sports in the first place. He has never been intimidated by my drive to succeed, and is such an amazing support in my life. My amazing family, clients and friends who have been on this journey with me. The sponsors that have jumped on board this crazy train, and are helping us make this happen! 
Michele: A huge thank you to Forge Motorsport Overland Series and 380 Industries for supporting us from the beginning! These guys, who are now like weird family, propelled this whole pipe dream into reality. And there is no way I could have even dreamed of doing Rebelle without all the support I get from my husband to explore life to its fullest.