Four sets of sisters are competing in this year's Rebelle Rally and we are fired up at the sister power headed our way this October!!
Case in point: sister duo and first-time team out of San Diego, Julia Stoner and Alicia Trigeiro. With deep roots in San Diego (five generations long), a love for their adventure mobile Rebelle rig, and an excitement about taking their first "vacation" together as adults (we can use the term vacation lightly here), Julia and Alicia know with skills and personal growth comes challenge…and are ready to roll with it!
Not only are they a first-time team, they're bringing another first to the Rebelle – a Ford Ranger! This will be the first year a team has ever competed in a Ranger on the Rebelle, and Team #117 is stoked on their third teammate – they take it out all the time on off-road trails and stated it handles like a beast!
Please welcome in today's Team Tuesday Team #117 – read on to find out more about the team!
Hometown/Current town:
Julia: 5th generation San Diegan currently living in La Jolla.
Alicia: San Diego for both!
Favorite Food:
Julia: Sushi.
Alicia: Khao Soi – it's a coconut curry soup that comes from northern Thailand.
Something only your best friend knows about you:
Julia: Love trashy paranormal reality TV shows; hate haunted attractions.
Alicia: I'm a voracious consumer of advice columns
Favorite place ever:
Julia: After six years in the Bay Area and multiple opportunities to move elsewhere, there's truly nowhere I'd rather be than America's Finest City.
Alicia: The Sierra Nevada are my first love but Southern Utah is amazing. I am always blown away by the rock formations, the ever-changing sandstone colors, and beautiful landscapes every time I visit.
Why did you pick the vehicle you're competing in?
Julia: The vehicle IS the inspiration! My sister's truck is her adventure mobile and made for the Rebelle!
Alicia: The Ford Ranger is a beastly vehicle and I'm always astounded how it handles off road trails with ease despite the extra weight of a camper and accoutrements in the back.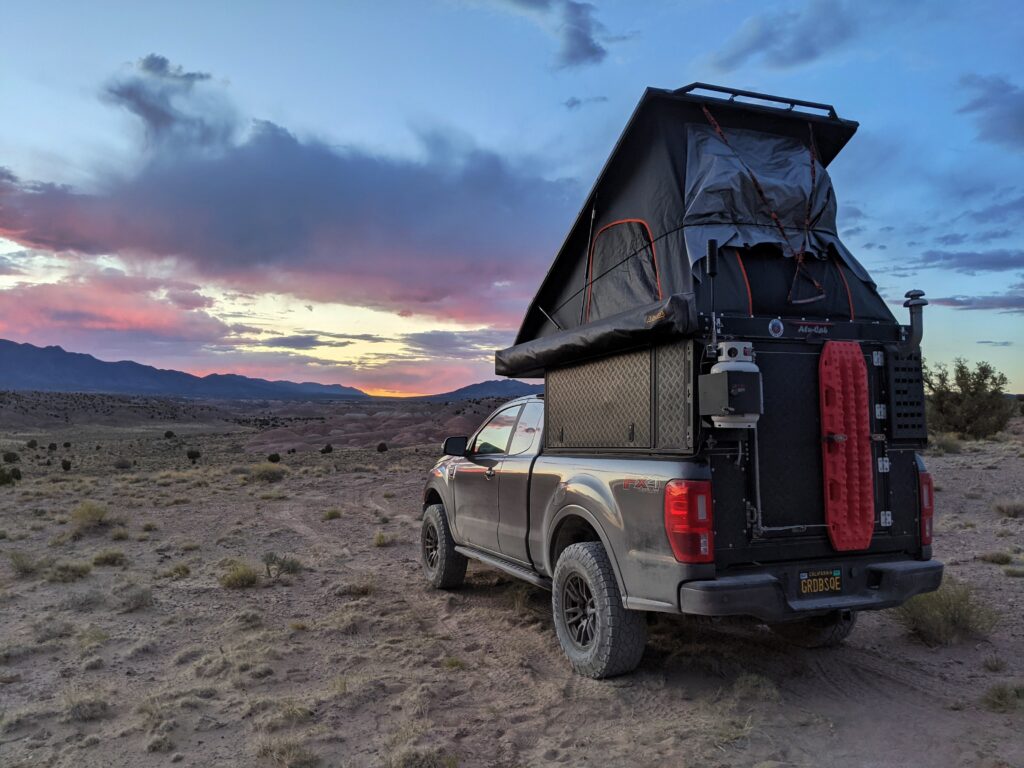 Why the Rebelle?
Julia: Personal growth and challenge plus major sister bonding. Love that it's a women-only competition that emphasizes skill and precision over brute force.
Alicia: I've wanted to compete in the Rebelle for a couple of years and I finally pulled the trigger after convincing my sister to do it with me. It will be our first "vacation" together as adults and I can't think of a better way to spend my time off than by off roading and having type 2 fun with Julia!
Any shout-outs you'd like to make while you have our attention?
Julia: Our incredible sponsors Alu-cab and Ok4WD! They have been excited to sponsor us since day 1 and we couldn't have asked for more amazing partners! Our parents are also super stoked for us to be doing the rally together and we have loved having their unwavering support.
Alicia: Shout out to our sponsors Alu-cab and Ok4WD! We love love love the camper and the accessories we have added to it to make it an amazing overland rig while still being a comfy daily driver. Also thanks to my husband for letting me use my precious vacation days to have fun without him. ?