Another Team Tuesday has arrived as we inch even closer to the start of the 6th Rebelle Rally beginning October 7th!
Today's team highlight is not only a returning duo, they're a returning X-Cross champion duo who met just last year and went on to earn top spot in their Bronco Sport. And not only are they coming back this October, but they're bringing along a new rig – the two-door Bronco in the 4×4 class! Please welcome Team #150 Penny Dale and Shelby Hall!
As you can imagine, the team has a knack for adventure and love going anywhere that brings it. They're also loving (in no particular order) coconuts, Baja, pushing boundaries, kale, ocean views, challenges, and  – you guessed it, the new Ford Bronco!
Read on to get to know Penny and Shelby now.
Hometown/Current town:
Penny: I'm originally from a little island call Saltspring in the Pacific Northwest but have spent the last 10 years calling Vancouver, BC Canada home.
Shelby: I am originally from the Biggest Little City – Reno, NV! I lived in Reno my entire life, until this last June…when I moved to Laguna Beach to spend the summer. It has been such a fun change, and a far different landscape from the desert. I am loving the warm days, ocean views and having the ability to walk everywhere!
Favorite Food:
Penny: Coconut. I put that on everything!
Shelby: KALE. Yes, I said kale. I honestly love every type of kale! If I see kale on the menu when out to eat, there is no doubt that is what I am ordering.
Something only your best friend knows about you:
Penny: What happens in the car, stays in the car 😉
Shelby: If I told you, then more than my BF would know! 😉
Favorite place ever:
Penny: On a new adventure with good friends.
Shelby: Baja. I can feel a shift in my energy as soon as we cross the border. Even with the hustle and bustle of Tijuana, I feel a mix of excitement and homecoming. I have so many fond memories of exploring, racing, laughing and learning in Baja. I know someday I will live there.
Why did you pick the vehicle you're competing in?
Penny: After an incredible win at Rebelle 2020 competing for Ford in the new Bronco Sport as part of the X-Cross Class, we knew we had to come back to compete in the 4×4 Class together. What better vehicle to do it in than the new Ford Bronco?!
Shelby: Penny and I were so honored to work with Ford in 2020 competing in the all new Bronco Sport in the X-Cross Class. We worked hard to take home the very first WIN for the new generation Bronco, so it only felt right to come back and go for another challenge, but this time with the Bronco in the 4×4 Class. It is near and dear to my heart personally, as my Papa, Rod Hall, worked with and also set records with the Ford Bronco band. It's incredible to be able to work hand in hand with a manufacturer like Ford, and to be one of a few females representing the brand. Plus, the Bronco is a legit, bad to the bone off road vehicle! I feel right at home behind the wheel, and know it will take us anywhere we need (and want!) to go.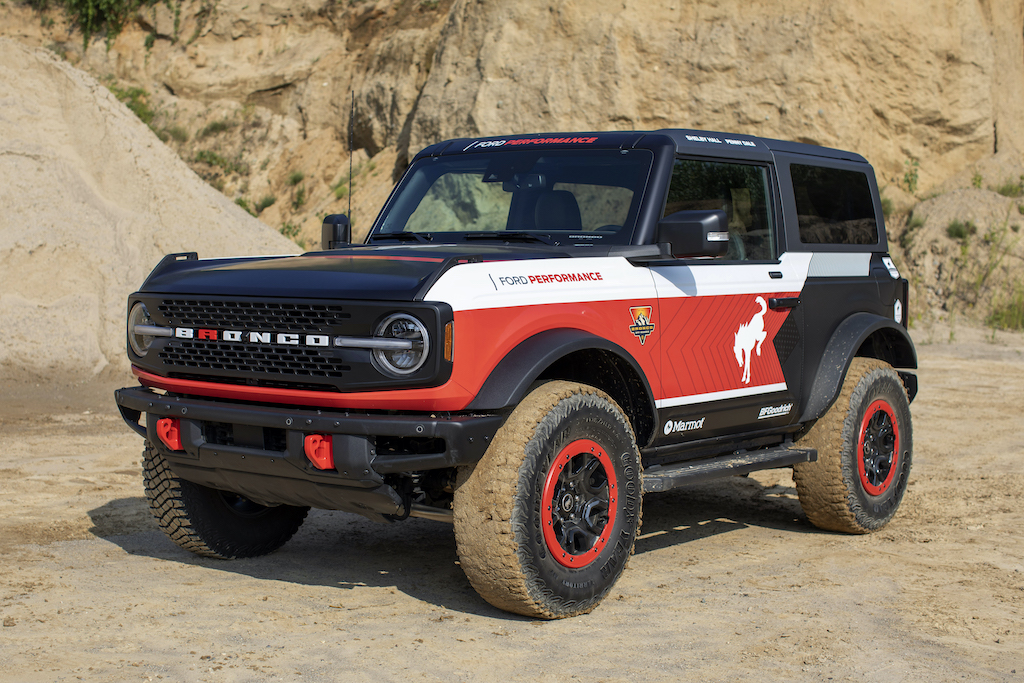 Why the Rebelle? 
Penny: Each year I come back to the Rebelle I learn so much about myself, about teamwork, strategy, time management – the list goes on! I find myself growing from it every year. Even though it's an insanely challenging competition, it is also so much FUN and re-connecting with other Rebelle's is an absolute highlight.
Shelby: I began my life/career/hobby as a desert racer. This whole "rally" thing was a whole new world to me when I competed in the inaugural 2016 Rebelle Rally. It changed the way I perceived competition and taught me so much about strategy, navigation, communication and comradery. I am glad my Papa pushed me to try something new – I have since learned so much about myself: how self-sufficient I truly am, how much fun it is to challenge my knowledge, it's better to KNOW where you are than to assume, and laughing is the best medicine.
Any shout-outs you'd like to make while you have our attention?
Penny: The first one is reserved for Shelby Hall, my amazing friend + teammate. It's a dream how well we work together + support each other. Shelby is an absolute force. She is one of the kindest, most positive, dedicated, committed individuals I've ever met and – wow – have you seen her drive?!
To Ford, thank you for giving Shelby and I the opportunity to chase our dreams in the new Bronco! We're so honored to be a part of the Bronco legacy and community. To Overland Training Canada, thank you for your continued support over all the years and for believing in me to train + encourage others to push their own boundaries.
To Bronco Nation, Ford Performance Parts, Marmot, Rigid Lights & all of our many incredible sponsors – thank you for believing in us, for supporting women in motorsports and for your continued support!
Shelby: First and foremost: I want to give a shout out to Penny Dale! My navi is the sweetest, funniest, smartest, best person to have on your team. I feel so lucky to have met her and be able to continue our friendship as not just teammates but lifelong homies.
Thank you Ford for believing in my idea in the first place, and giving me the opportunity to shine for myself and encourage other women out there to push their courageous spirits.
Thank you BFGoodrich Tires – they are 100% always behind me in my adventures. The best and only tire I believe in. Plus, their service and employees are top notch!
Bronco Nation! Bronco Nation will be spending extra time with us this year to ensure our Rally is covered and shared to as many people as possible. They believe in women in motorsports and want to share "the stoke" of how incredible this experience and competition is.
We have many sponsors who help make this dream a reality, like Marmot, Rigid Lights, and Ford Performance Parts. We can't wait to work hard and earn what's to come!