SISTER POWER!
Stoked to reintroduce a returning team today, a sister duo from the Pacific Northwest who demonstrated some serious resilience and grit competing last year in their heirloom 1969 Bronco.
Coming back for round two, along with their 3rd teammate the new and improved Cranky B., please welcome back Team #141 Roaming Wolves – Rochelle Bovee and Melissa Vander Wilt!
Read on to learn why they're Rebelling again this October, and what they have in store for that insanely cool Bronco.
Hometown/Current town:
Rochelle: Vancouver/Battle Ground, WA
Melissa: Oregon native! I've lived in the beautiful Portland metro area my whole life, except for a couple of short stints in Costa Rica.
Favorite Food:
Rochelle: Beef Stroganoff, but not the classic recipe kind.
Melissa: Carbs, basically.
Something only your best friend knows about you:
Rochelle: LOL. No comment.
Melissa:My BFFs know snitches get stitches, so they're not talking… 😉
Favorite place ever:
Rochelle: My go-to happy place is always the Gifford Pinchot National Forest, with its rivers and waterfalls, the smell of the mossy trees, and the sun glimmering on the rain-soaked ferns. And lucky for me, it's "just around the corner."
Melissa: Oooh, tough one — I love a lot of places for very different reasons! "On the couch in soft pants" was the first thing that came to mind, but I'm guessing that's not what we're after here. My real answer is probably anywhere near a body of water — beaches, lakes, rivers. Water soothes my soul.
Why did you pick the vehicle you're competing in?
Rochelle: We instantly decided we'd run our heirloom Bronco that we were already restoring for the 2020 Rebelle because its awesome. And she may have not have been completely ready for the rally last year, and quickly inherited the name Cranky B., but neither were we, and we all finished. So of course we're running our Bronco again this year, and every year, but we're coming back with a rebuilt transmission and transfer case, and new gears to boot. 🙂
Melissa: The Bronco was our dad's! He bought her new in '68, and we had a lot of memories of camping and adventuring in her growing up. When Dad passed, there was no question — we would finish the restoration he'd started and get her back outside! We never even considered competing in anything else; Dad would've been so proud and tickled to see us out there in his old Bronco. We rally for ourselves, but we rally in the Bronco for Dad.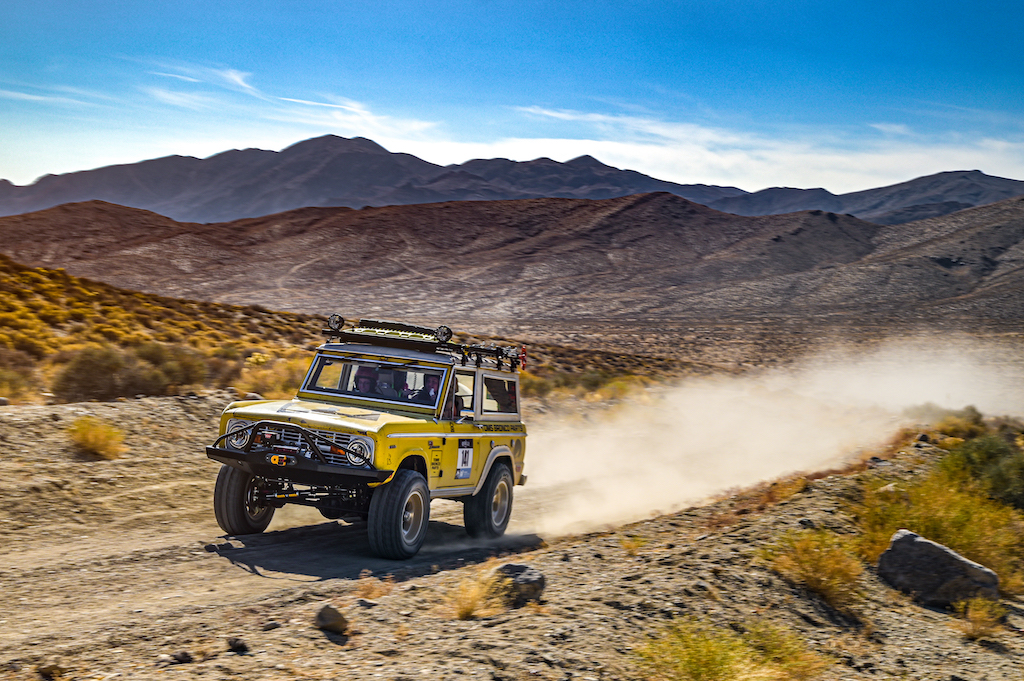 Why the Rebelle?
Rochelle: Now that I have competed in the Rebelle, naturally, I'm hooked. The Rebelle Rally flawlessly blends adventure, camaraderie, and competition; it perfectly suits my goals of pushing myself outside of my comfort zone, meeting new people, seeing new places, and building confidence and skill through challenges.
Melissa: I didn't realize how much I needed a "life shake-up" until my sister asked me if I wanted to do the Rebelle. I didn't even stop to consider it — I literally said yes immediately. In retrospect, I realize that moment was a maelstrom of emotion: I was excited to spend more quality time with my sister, hungry for a new challenge, and drawn to being part of a community of incredible women who love adventure and healthy competition and raising each other up. I mean…why NOT the Rebelle?
Any shout-outs you'd like to make while you have our attention?
Rochelle: I am constantly mind-blown by the support of our team from our amazing primary sponsor, Toms Offroad, our new sponsor, Red Line Synthetic Oil, and from our family, friends, followers, and fellow Rebelles! We have a huge community around us, cheering us on, and I feel the love. And of course to my wicked hot husband and amazing kiddos, who are by far my biggest fans and give me all the encouragement a mama could need. Thank you!
Melissa: Our primary sponsor, Tom's Offroad! We quite literally could not do the Rebelle without their generosity, support, and outstanding Bronco expertise — they are fantastic and we adore them. And big ups to Red Line Oil, a new and exciting sponsor for us in 2021! Finally, shout out to our families and friends for their love, support, and encouragement…but a special SO to my husband and son for their patience with my exhausting all of my PTO to do the Rebelle 2 years in a row now. We'll vacation another time, loves….mama's gotta go to the desert.