October 7, 2021 (Lake Las Vegas, NV) – Today, the 6th Edition of the Rebelle Rally kicks off with Tech Inspection at the iconic Hoover Dam. A full roster of 52 teams will take part in the longest competitive off-road rally in the United States. It is also the first all-women's off-road navigation rally in the U.S.
The ten-day event includes eight stages and covers 2,275 kilometers of America's finest off-road terrain across Arizona, Nevada, and California. The endurance competition is based on precision driving and navigating – not fastest speed. The competition is innovative and unique, using maps, compass, roadbooks, and strategy – known as Rebelle Format. GPS and other electronic devices such as cell phones are strictly prohibited and sealed for eight days.
This year, teams hail from 92 cities, 24 states and provinces, and five countries around the world. Each team consists of a driver, navigator, and their vehicle, with no personal support crews allowed. Competitors range in age from 21 to 73 years old. 53 competitors are returning Rebelles and 51 are new to the rally. Due to the challenging format, a Rookie of the Year trophy is awarded to the highest ranking team with two competitors who have not previously competed in the rally.
By design, the Rebelle Rally competition vehicles are stock manufacturer trucks and SUVs – not tube chassis race cars. There are two classes – 4×4 and X-Cross™. This year there are 42 4×4 entries which are defined as four-wheel drive with a two-speed transfer case and ten X-Cross™ vehicles from the popular AWD and Crossover SUV segment.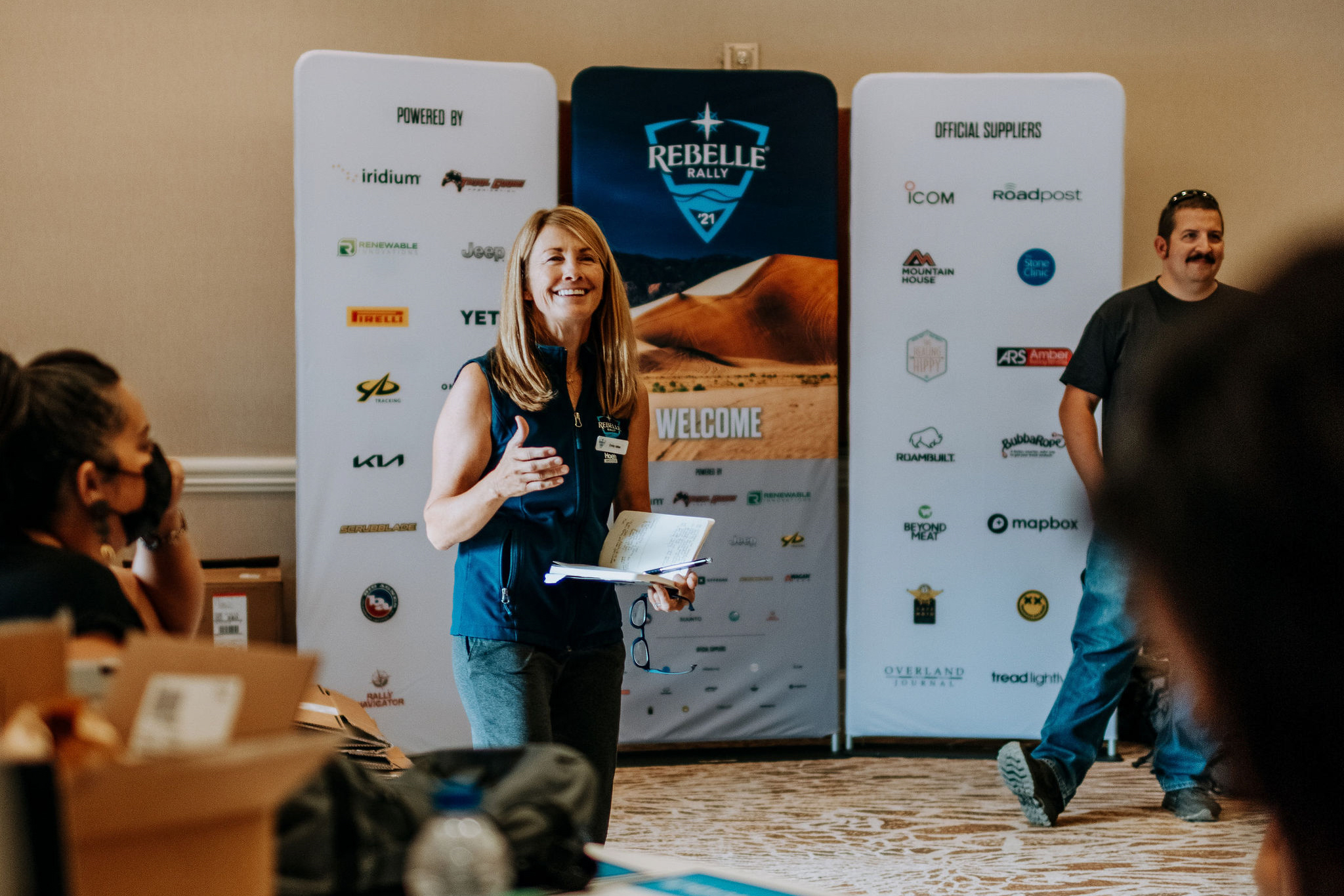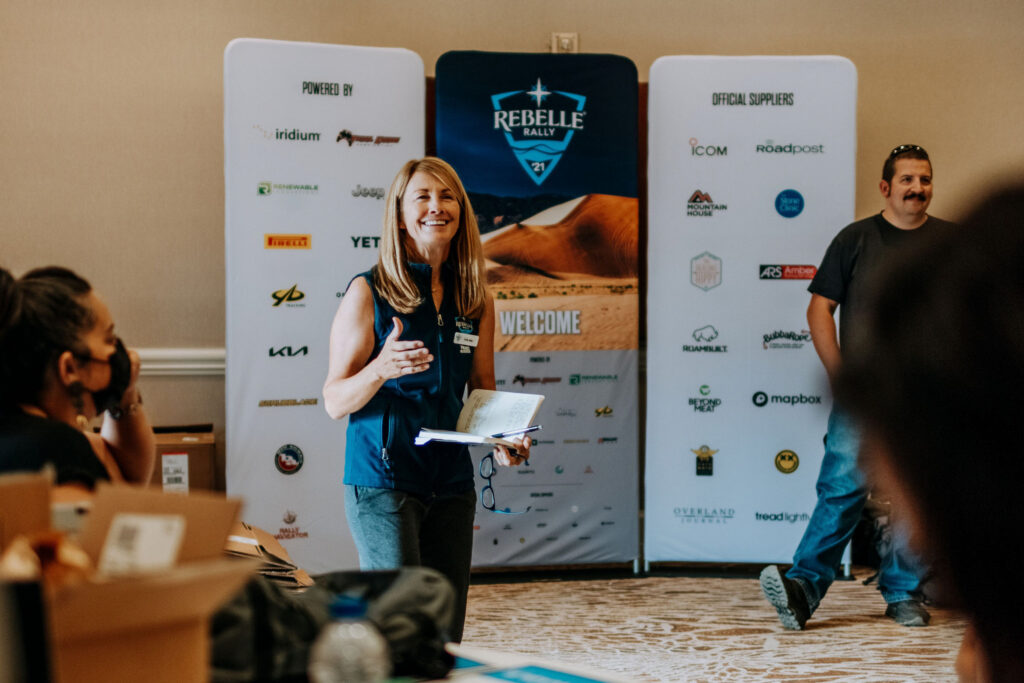 4×4 Entries
Historically, the highest number of vehicle entries are Jeep Wranglers. This year there are 18 Jeeps entered representing both privateer and manufacturer teams. 13 Toyotas, including two manufacturer teams of Toyota engineers, five Fords including two new Broncos, a team of sisters in a Ford Ranger, and another team of sisters returning for their second rally in their vintage 1969 Bronco. Two Nissan entries are registered including the all-new Frontier pickup. Two Land Rover teams include the LR4 and the new Defender 90. A Lexus GX 460 and 4×4 Porsche rounds out this large class.
X-Cross™ Entries
Ten entries complete the X-Cross™ class for all-wheel drive and two-wheel drive vehicles. Entries include two Porsche Cayennes, two privateer Subaru entries, the Mitsubishi Outlander with a team of military combat veterans, a Honda Ridgeline piloted by a team of Honda engineers, and a Ford Bronco Sport.
Electrified Designation Grows
The mission of the Rebelle Rally is to provide a proving ground for people, products, and stock manufacturer vehicles, and that applies to electrified vehicles as well. The Electrified Designation launched in 2020 and returns in 2021 with seven vehicles participating. The remote, long-distance course puts EVs and PHEVs to the test competing in the same class the vehicle is designed for. The rally goes further by working with Renewable Innovations to rapid charge the vehicles with renewable hydrogen power. Fully electric vehicles include the Rivian R1T (returning for the second year) and the Volkswagen ID.4. Five PHEVs will compete – three Jeep 4xe vehicles and two Kia Sorento PHEVs.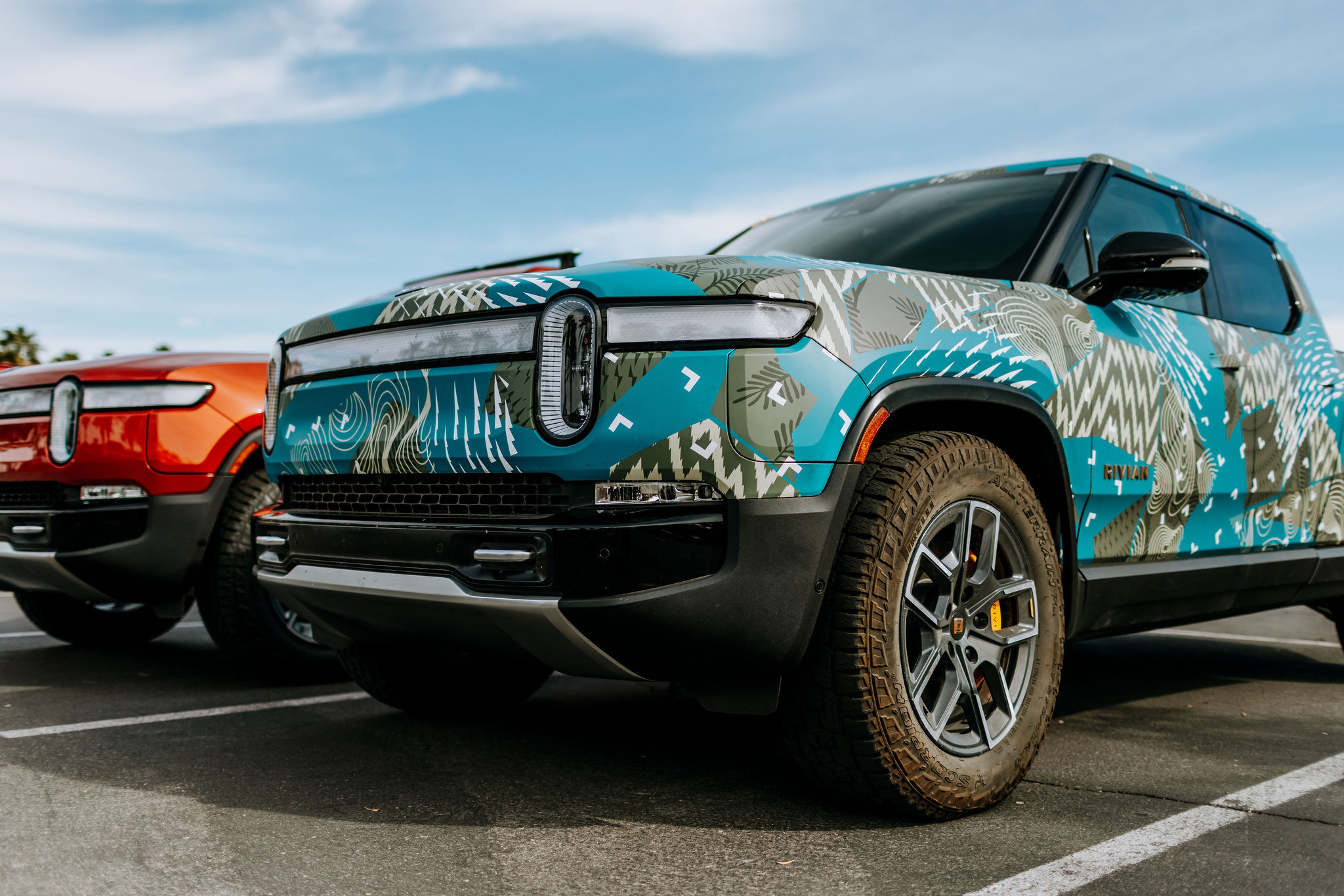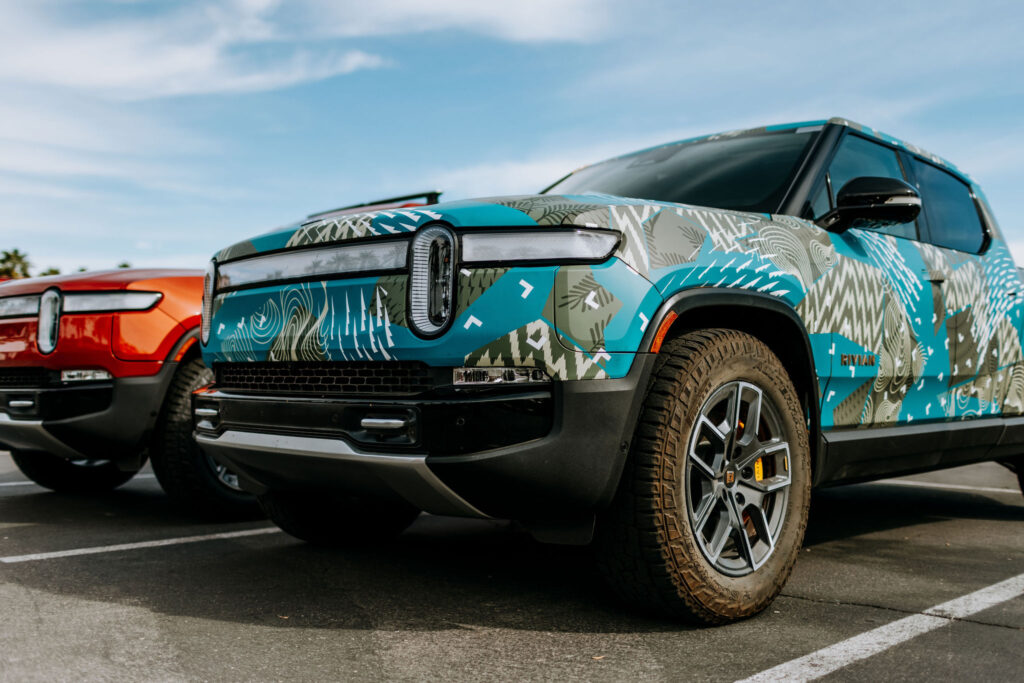 The Course
The course is kept confidential to the competitors, however they know that this year's rally course will consist of four basecamps and one marathon stage where teams self-camp without mechanical assistance. Traditionally, the route is carefully designed to cover a wide range of terrain types, vistas and elevation changes – from high mountain passes, high desert and stunning valleys to the vast Mojave Desert. This year is no exception and will include three full stages entirely new to the rally with several stages building upon previously unused routes. The final stage takes place on October 15th in the famed Imperial Sand Dunes (Glamis), the largest sand dune complex in the United States. Stage seven, powered by TOTAL Chaos Fabrication, lives up to its name as the challenging 120-kilometer course in soft sand peaks shakes up the final standings.
The Live Show Presented by Lexus starts Thursday, Oct. 7th at 2:30 pm PDT with multiple shows daily. Watch live at www.rebellerally.com.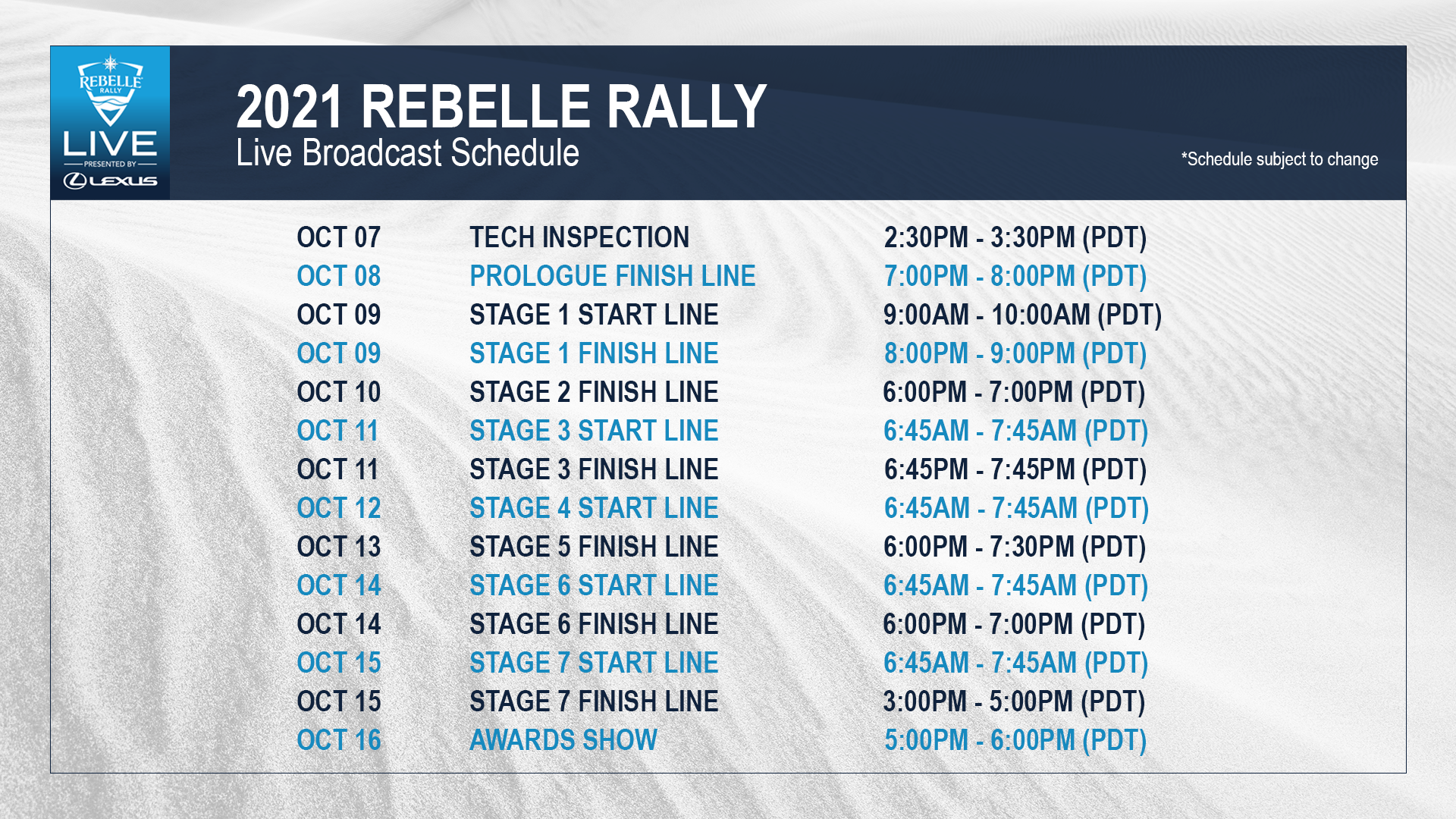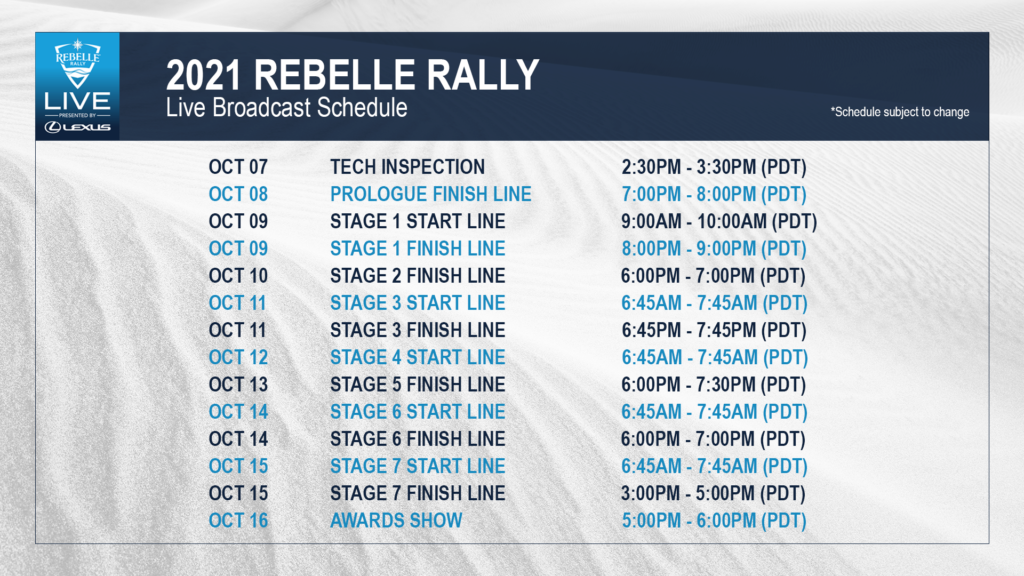 LIVE SHOW PRESENTED BY LEXUS
KICKS OFF TODAY STRAIGHT FROM THE HOOVER DAM!