What goes into building a winning Rebelle vehicle? We asked two-time Rebelle 4×4 Class winner Kaleigh Hotchkiss to find out! Check out the story on her 1999 Jeep TJ Build that took the highest score in our 2017 rally: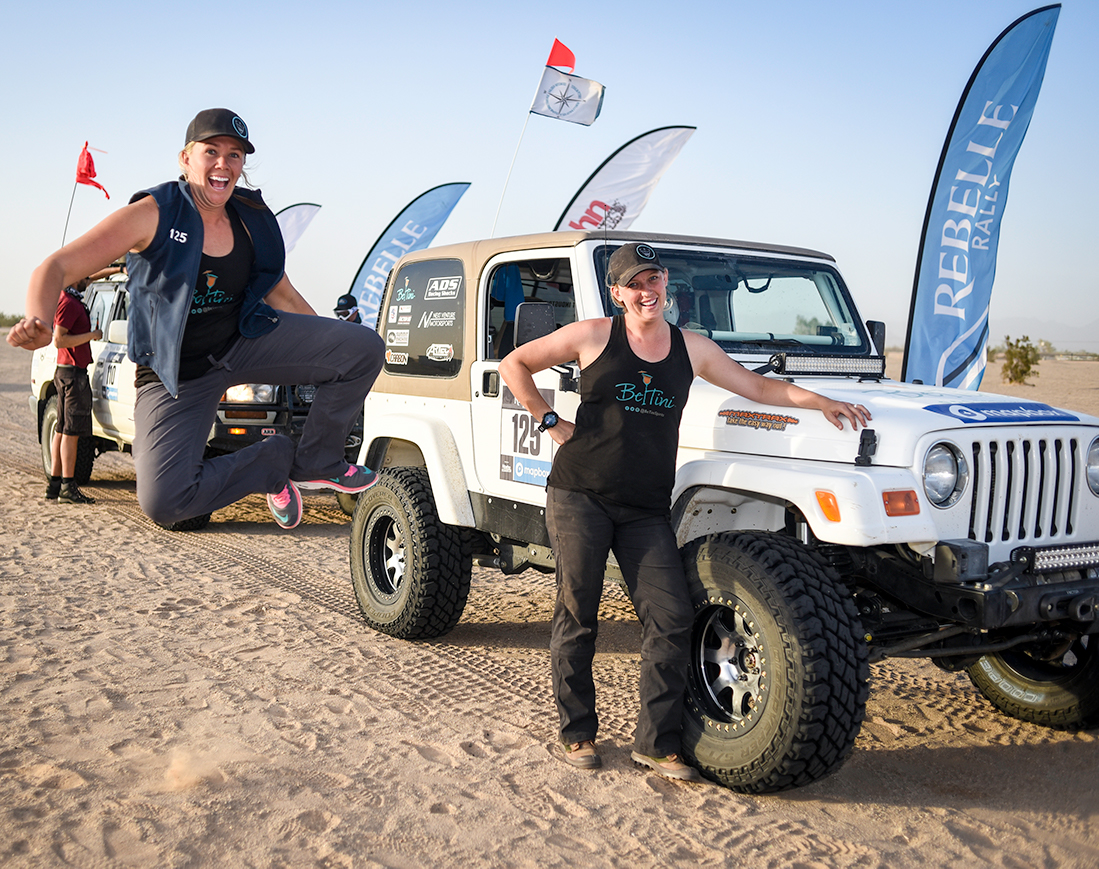 Early in 2014, I decided I wanted to buy a Jeep as a weekend toy for camping with my dog. Within a couple weeks of searching, I found a 1999 Jeep TJ Sahara 4.0L automatic and at the suggestion of some friends, I asked Ryan Miller to come along with me to take a look. The Jeep was the definition of a rust bucket, but everything seemed to work, and for camping and easy dirt roads I figured it would be fine.
A couple years passed and I ended up doing a lot more in the Jeep than just camping. With very slight modifications, the Jeep had done several trails throughout the state, Moab, Glamis, and more. (Side note- Ryan stuck around too after that fateful night at the car dealership, we ended up dating and are now engaged to be married in 2018!) In October 2016, I came home from winning the 2016 Rebelle Rally and decided that not only would I be participating in the rally in 2017, I wanted to bring the Jeep. By then the frame had cracked and all the stock components had taken a beating – I knew it was time to start making some serious changes. I wanted a Jeep that was very unassuming and as close to stock-looking as possible. But I also wanted it to be overbuilt, with serious protection and quality parts. I wanted it to drive like a Cadillac on the highway, fly around in the dunes, and still be able to rock crawl on Arizona trails.  I had a long list of "wants" and not a lot of time or funds to get it all done.
I started reaching out to some of my favorite companies and scouring Craigslist, Facebook, and even scavenged in our friends' garages. We collected Jeep parts from across the country, going as far as Oklahoma for a set of hard doors. We wanted to keep the "old" Jeep running as long as we could but in the meantime we started building.
Gathered a HP D30 front axle and rear D44 axle. Had axles straightened, welded on Artec Industries trusses and axle armor along with spring plates, trac bar mounts, knuckle gussets, AR skid plates, tube sleeves, and diff covers with the help of Chris at Lost Industries. Installed Carbon Off-Road chromoly axles front and rear, Motive 4.88 gears, ARB air lockers, along with all new bearings, ball joints, and Powerstop brakes. On the rear axle a special protective "tube" for Terratrip sensor wiring was installed. Axles then got powdercoated.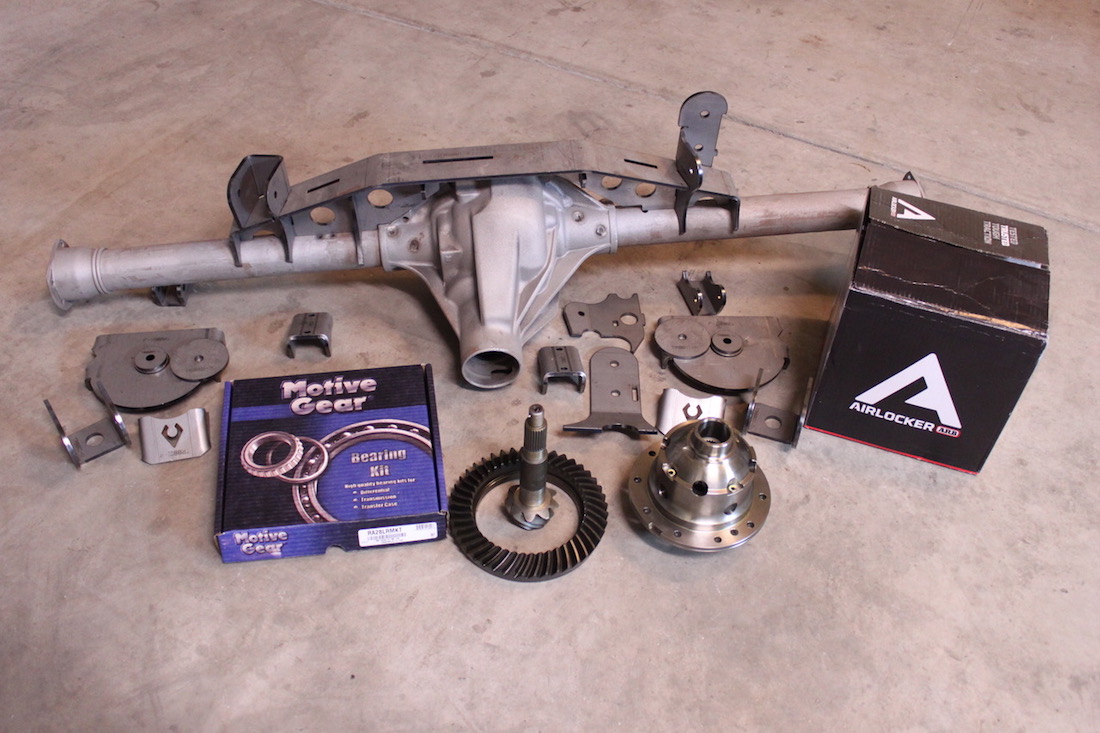 Used an old transfer case and engine to mock everything up along with a freshly rebuilt AW4 transmission.
Cleaned up the frame and cut off all the old brackets. Installed new Artec body mounts and lower link mounts along with Next Venture upper link mount caps and trac bar mounts (including changing the front mount to double shear). Made a transmission mount crossmember to go with the Next Venture flat belly skid plate and sleeved the frame for the skid plate mounting bolts. Plated the shock mounts and added gussets to the spring buckets front and rear. Applied internal frame coating and had the frame powdercoated.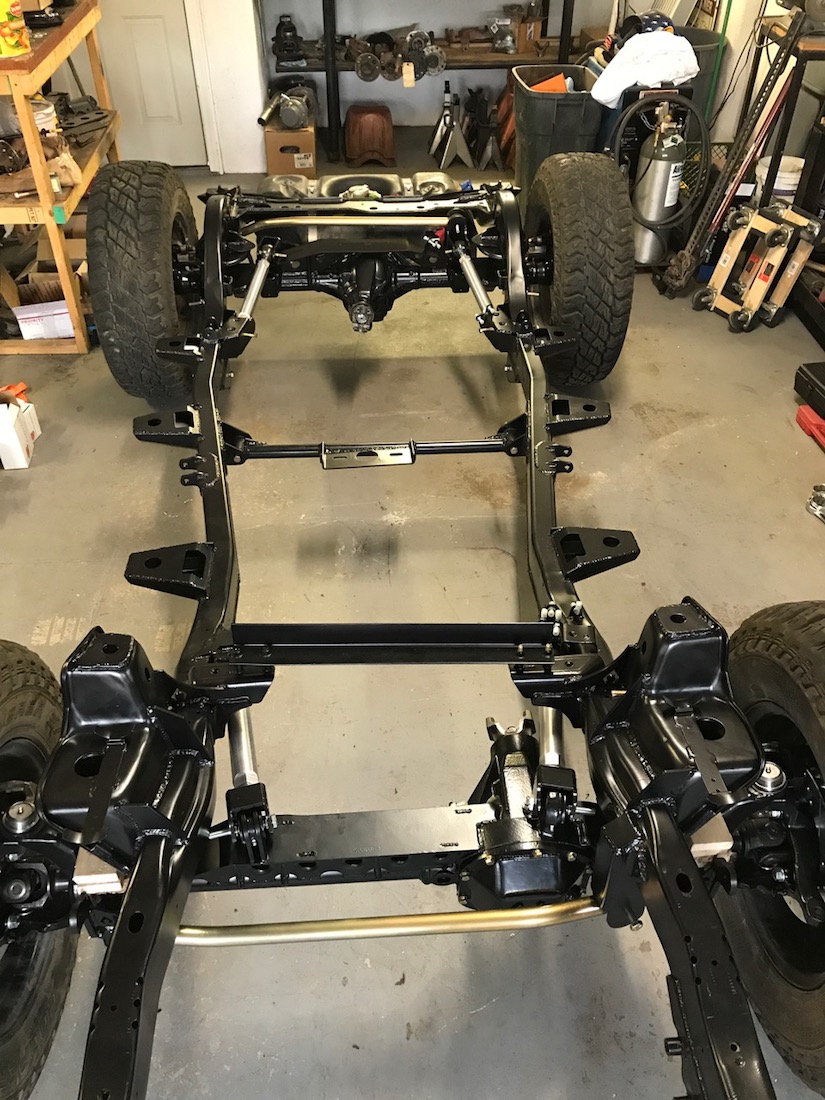 Made new short arm links with 2.25" aluminum and large Summit Machine billet flex joints on the lowers, and 1.75" aluminum along with JK size billet flex joints on the uppers.
A LOT of cleaning – all the carpets and seats were shampooed, duct work and dash were thoroughly cleaned. While a lot of the parts were "recycled," everything was cleaned, painted, and shined.
Custom designed front winch bumper with steering box skid, flat belly, corner guards, tailgate support, and sliders, all by Next Venture Motorsports. The corner guards and tailgate support were powdercoated to match the white body paint.
Designed a roll cage to mimic stock cage but with an A-pillar, spreader bars, roof tubes, corner gussets everywhere and frame tie-ins from front to back. The cage was then powdercoated white to match the body.
At the end of June 2017, I attended a Rebelle Rally training with Nena Barlow in Flagstaff which we decided would be the last run for the "old Jeep." It was time to start disassembly of "old Jeep" and assembly of "new Jeep."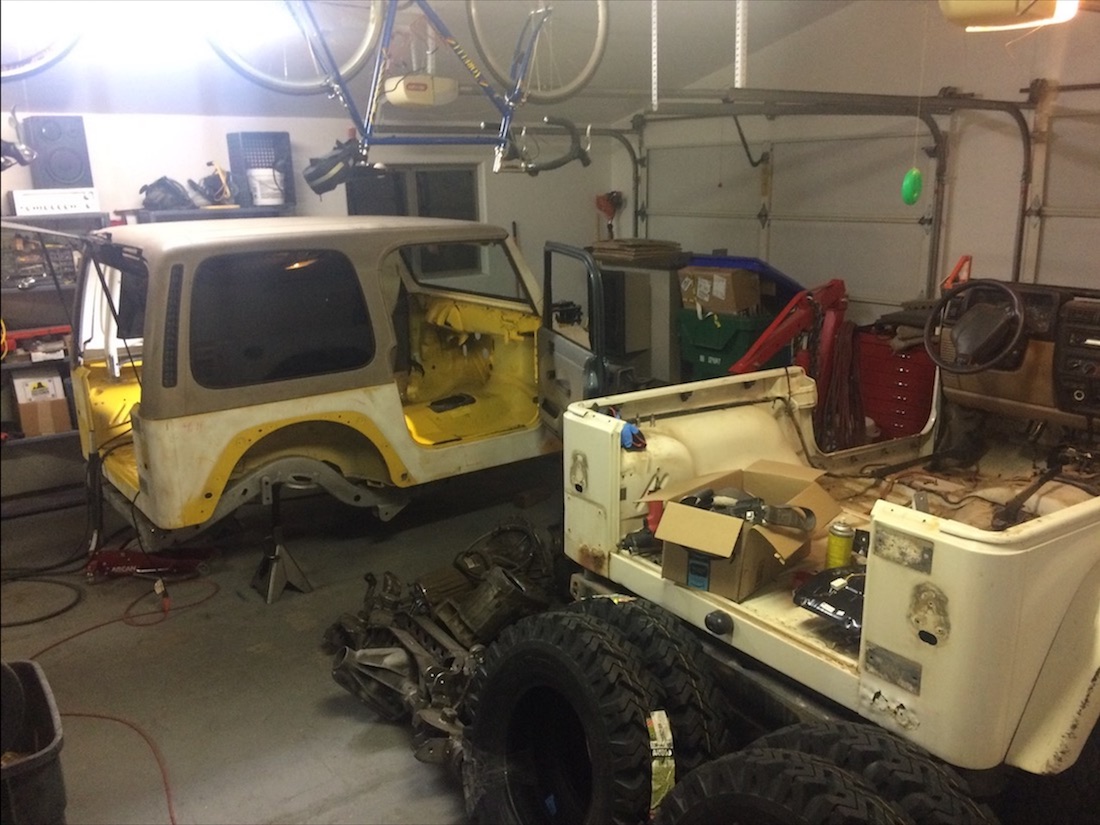 Connected the frame to the axles using ADS 2.5" smooth body reservoir shocks with clicker adjusters, the new aluminum links with Summit joints, 3" progressive rate springs, Metalcloak trac bars, and Howe steering.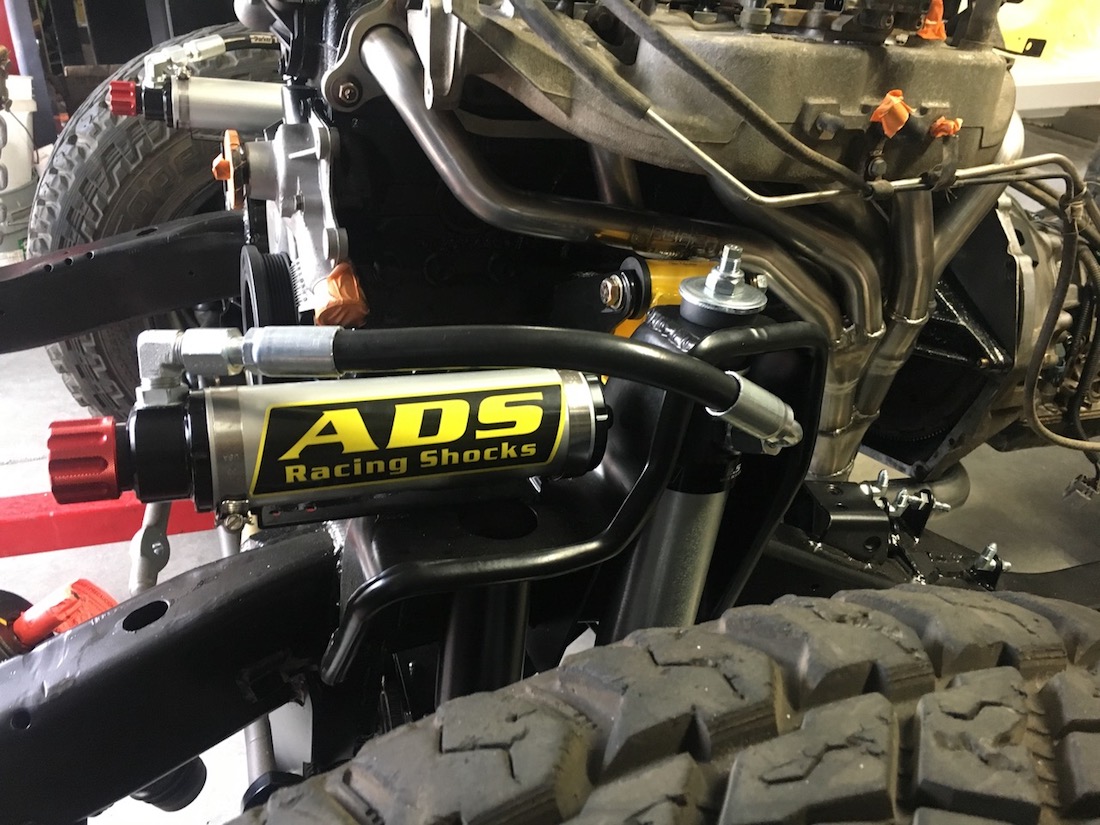 Installed engine with all new gaskets, seals, water pump, pulleys, starter, alternator, ignition system with Next Venture lifted motor mounts. All new hoses, radiator, thermostat and housing. McGhie Offroad Racing provided a complete Borla stainless exhaust system.
Installed transmission with new cooler and all new wiring for the AW4 tied into the TJ wiring harness – this swap could be a whole write up of its own but suffice it to say, was the most complicated and stressful component of the build.
Rebuilt and installed the transfer case with a 6-pinion planetary, wide chain, steel shift forks, 2-lo kit, and JB Conversions super short SYE along with rebuilt/new driveshafts using all Spicer and Neapco components.
Hung the fuel tank from the frame via a Savvy aluminum fuel tank skid. Ran all new fuel lines, brake lines, and air lines throughout the chassis.
Cleaned up all the body parts and inside coated all the channels in the tub, doors, fenders, tailgate, grill, hood, and windshield frame and then painted everything. Coated inside and underside of the tub with smooth Duraback coating. Installed the tub onto the frame and installed the cage along with the frame tie-ins, floor plates, sliders, corner guards, dash, and rest of the interior, including AC.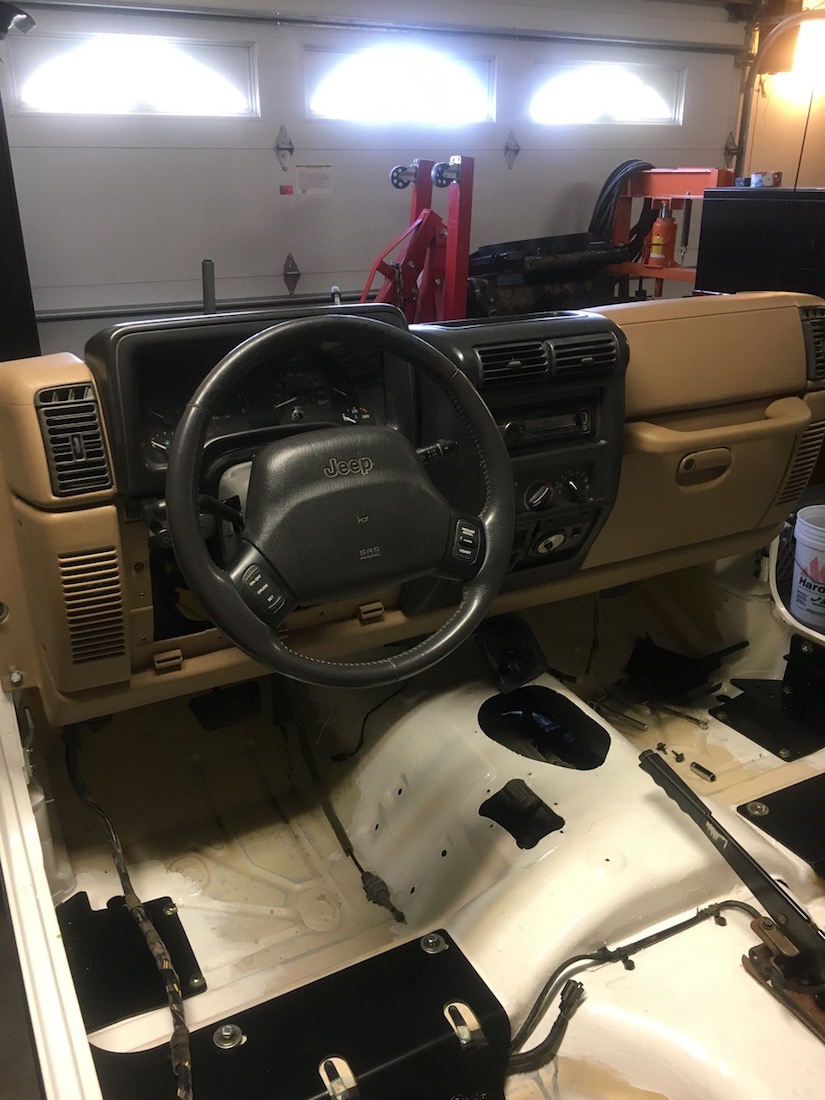 Installed Terratrip with redundant wheel probes and remote driver display on custom mounts.
Mounted the Warn M8000 winch wrapped with a JM Rigging Supply winch rope finished off with Factor 55's Fairlead 1.0 and Flatlink E. JM Rigging Supply strap, soft shackle, SPA shackle, and sling, a Warn snatch block, and a set of TREDS complete the list of recovery equipment. Mounted the onboard Viair air compressor and tank to operate the ARBs as well as provide air when needed on or off the trail.
For safety, a first aid kit was acquired from Black n Blue First Aid, mounted up a pair of fire extinguishers, threw in a fluid spill kit, and made a quick disconnect whip mount for the dunes.
A spare for nearly every part on the Jeep was made or gathered and neatly packed in the Jeep in waterproof toolboxes to help save room and stay organized.
Finishing off the build was a brand new set of Cooper tires and Raceline Avenger beadlocks.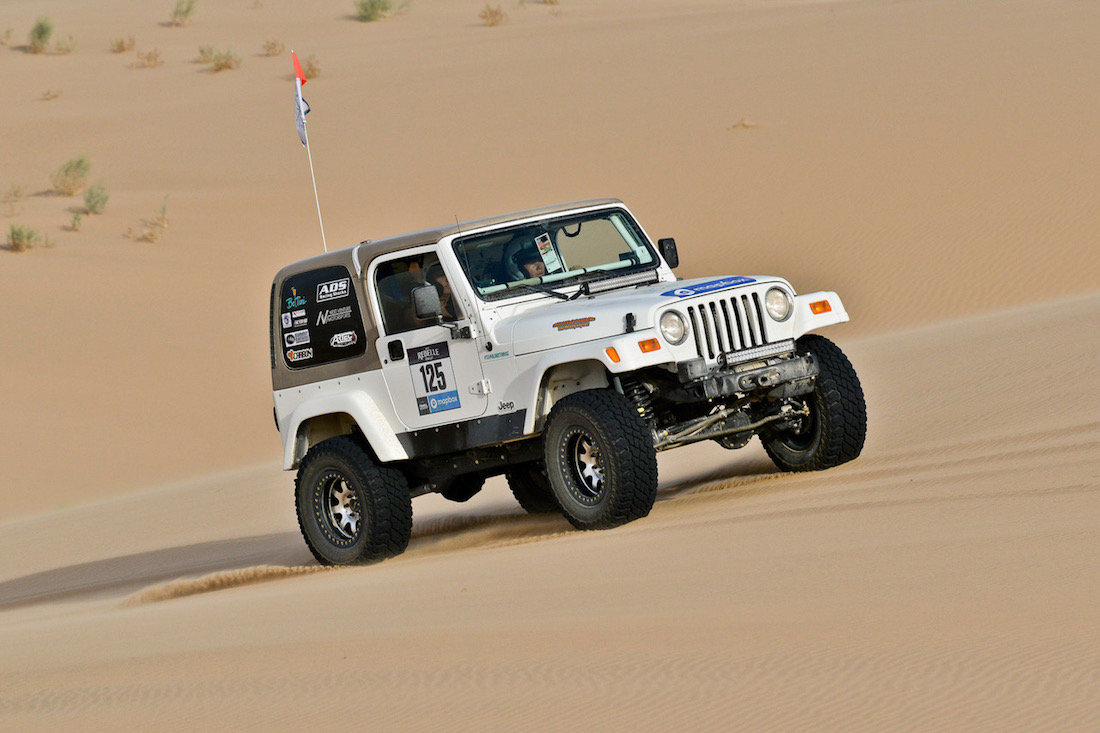 No stone was left unturned – from new windshield wipers to WeatherTech mats to "new car scent" air fresheners, the Jeep feels better than fresh-off-the-lot. The result? Not only did My partner Teralin and I win the 2017 Rebelle Rally, the Jeep never had a glitch. Not one hiccup, sound, smell, or concern. It took all our spare time, patience, and pennies but I am very proud of what we accomplished in such a short period of time in our little two car garage (technically we moved twice during this time frame, so the work was done in 3 different two-car garages!), while also working full time jobs, selling a house, buying a house, and getting engaged. Ryan is a genius and taught me more than I ever thought I could learn about Jeeps. But we couldn't have done this build or competed in the rally without a lot of help from marketing partners and friends including:
ADS Racing Shocks
Be Tini Spirits
Next Venture Motorsports
ARTEC Industries
Carbon Off Road
Summit Machine, Inc.
JM Rigging Supply
Moab 4×4 Outpost
Quickloader
Factor 55
Lost Industries
Black n Blue First Aid
McGhie Offroad Racing
4 Wheel Parts – Tucson
And our helping hands: Sam Verbridge, James Linville, Derek Crase, Bernie Stewart, Dan Foor, Jordan Azlin, and Brian Turner
-Kaleigh Hotchkiss, 2016 and 2017 Rebelle Rally 4×4 Class Winner