We know joining the Rebelle isn't easy. That's why we've laid out a step by step guide for you on how to get there and some tips and advice to consider along the way!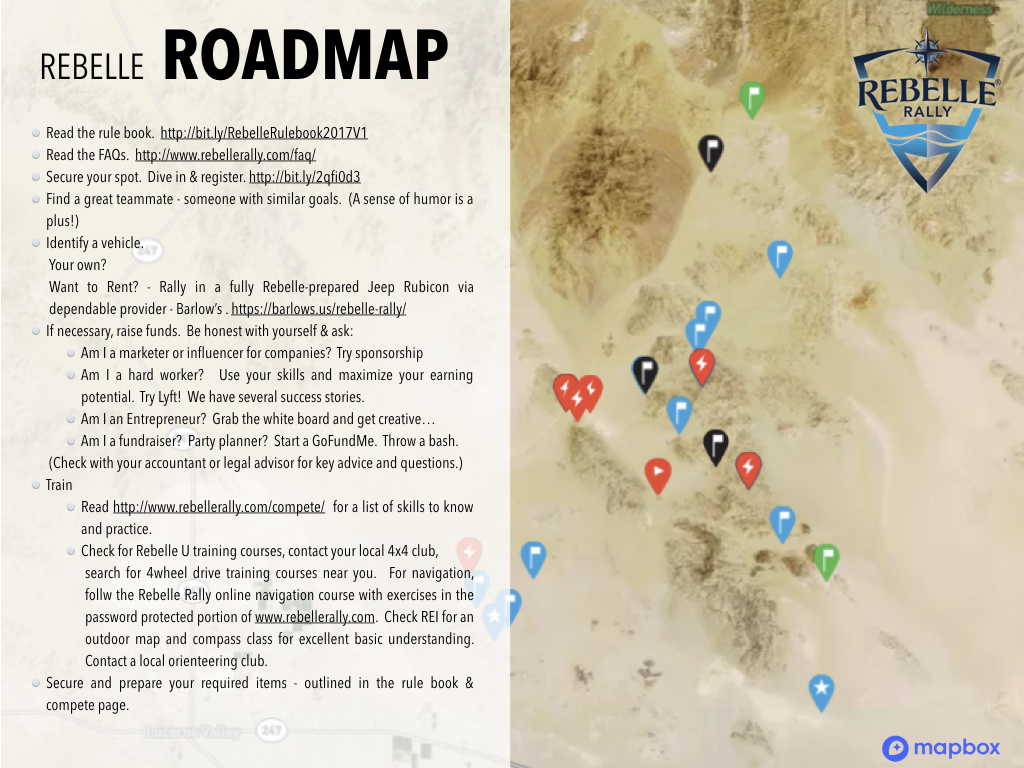 Here are our suggestions for getting rally-ready:
Read the rulebook.
Read the FAQs.
Secure your spot.

  

Dive in & REGISTER.
Find a great teammate – someone with similar goals.

  

(A sense of humor is a plus!)
Identify a vehicle.

Your own?
Want to Rent? – Rally in a fully Rebelle-prepared Jeep Rubicon via dependable provider – Barlow's.

If necessary, raise funds.

  

Be honest with yourself & ask:

Am I a marketer or influencer for companies?

  

Try sponsorship.
Am I a hard worker?

  

Use your skills and maximize your earning potential.

  

Try Uber or Lyft!

  

We have several success stories.
Am I an Entrepreneur?

  

Grab the white board and get creative…
Am I a fundraiser?

  

Party planner?

  

Start a GoFundMe.

 

Throw a bash. (Check with your accountant or legal advisor for key advice and questions.)

Train.

Read our Compete Page for a list of skills to know and practice.

Check for Rebelle U training courses, contact your local 4×4 club, 

search for 4wheel drive training courses near you.

  

For navigation, follow the Rebelle Rally online navigation course with exercises in the password protected portion of  our Competitor Zone.

  

Check REI for an outdoor map and compass class for excellent basic understanding.

  

Contact a local orienteering club.
Secure and prepare your required items – outlined in the rulebook & Compete Page.

Have you got spirit?

  

Select your designated non-profit organization for the chance to win the Team Spirit $5000 cash award.
International teams – check the rulebook and select your non-profit for the opportunity to win $2,500 in your team's name.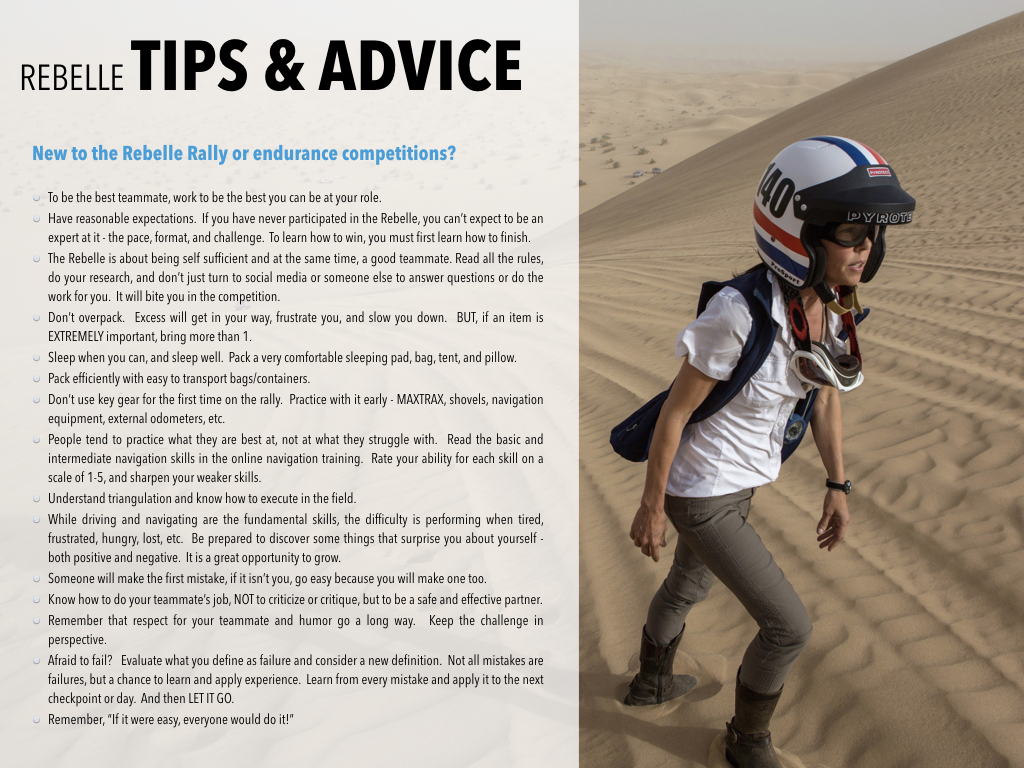 Ready for the competition? Here's some tips: 
To be the best teammate, work to be the best you can be at your role.

Have reasonable expectations.

 

If you have never participated in the Rebelle, you can't expect to be an expert at it – the pace, format, and challenge.

 

To learn how to win, you must first learn how to finish.
The Rebelle is about being self sufficient and at the same time, a good teammate. Read all the rules, do your research, and don't just turn to social media or someone else to answer questions or do the work for you.

 

It will bite you in the competition.
Don't overpack.

 

Excess will get in your way, frustrate you, and slow you down.

 

BUT, if an item is EXTREMELY important, bring more than 1.
Sleep when you can, and sleep well.

 

Pack a very comfortable sleeping pad, bag, tent, and pillow. 

Pack efficiently with easy to transport bags/containers.

Don't use key gear for the first time on the rally.

 

Practice with it early – MAXTRAX, shovels, navigation equipment, external odometers, etc.
People tend to practice what they are best at, not at what they struggle with.

 

Read the basic and intermediate navigation skills in the online navigation training.

 

Rate your ability for each skill on a scale of 1-5, and sharpen your weaker skills.

Understand triangulation and know how to execute in the field.

While driving and navigating are the fundamental skills, the difficulty is performing when tired, frustrated, hungry, lost, etc.

 

Be prepared to discover some things that surprise you about yourself – both positive and negative.

 

It is a great opportunity to grow.

Someone will make the first mistake, if it isn't you, go easy because you will make one too.

Know how to do your teammate's job, NOT to criticize or critique, but to be a safe and effective partner.

Remember that respect for your teammate and humor go a long way.

 

Keep the challenge in perspective.
Afraid to fail?

 

Evaluate what you define as failure and consider a new definition.

 

Not all mistakes are failures, but a chance to learn and apply experience.

 

Learn from every mistake and apply it to the next checkpoint or day.

 

And then LET IT GO.

Remember, "If it were easy, everyone would do it!"
Still got questions? Email us at info@rebellerally.com and we'd be happy to answer them!