HELLO REBELLE COMMUNITY!
Approximately two months ago, we wrapped the sixth Rebelle Rally. Our largest competition to date with 104 women competing in a mix of both new and returning competitors, the Rebelle welcomed many firsts this year along with an incredible amount of support. In three weeks, the 2022 Rebelle Rally sold-out in record time. But don't give up on your dream to compete! 

While next year's rally is full, the waitlist is currently open and we have already had multiple waitlist teams reach the 2022 roster! We highly encourage anyone who planned on competing next year and has not yet signed up to review waitlist details and instructions. Every year, we have teams drop off due to unforeseen circumstances and signing up on the waitlist now is the best opportunity to compete in 2022. Also we have great plans in the works for training and other opportunities to sharpen skills AND put those skills to the test whether you are entered in 2022 or not. So watch for more news coming after the first of the year! We wish you wonderful holidays and an adventurous New Year!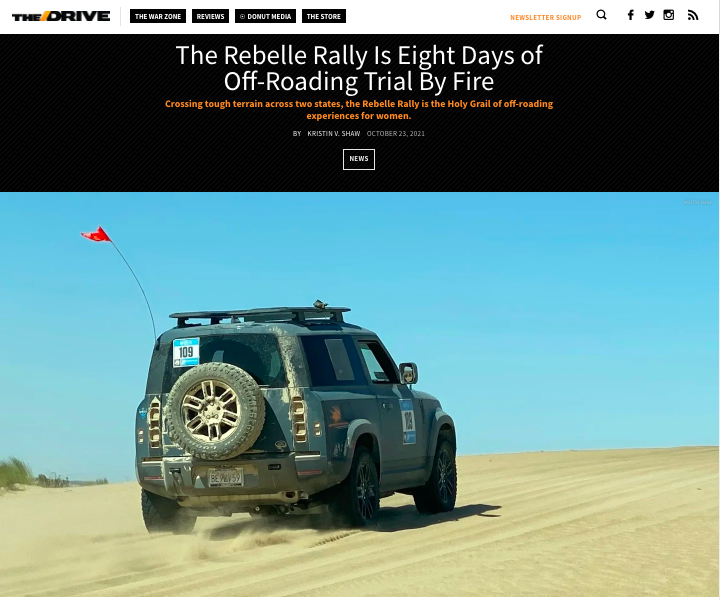 "If you are willing to challenge yourself, then Pirelli is up for the challenge." – Ian Coke, Pirelli North America Chief Technical Officer
2021 Rebelle partner Pirelli North America is known as a brand for luxury vehicles. But experienced firsthand on the Rebelle Rally, they're so much more than that. Pirelli's product line for SUVs and CUVs, the Scorpion™ range including Rebelle-proven Scorpion™ All Terrain Plus, provides optimal off-road performance on dirt, rocks, sand, and a wide variety of terrain. In fact, there's so much for us to love about the tires we requested an interview with Pirelli for a full rundown. And they delivered.
We had the chance to sit down with Pirelli North America Chief Technical Officer Ian Coke to quiz him on the technology that goes into the tires, and how after almost 150 years, Pirelli just keeps getting better. Read on for the full interview with Ian. A big thank you to Ian for sharing his expertise and knowledge with us!

At that Rebelle Rally, each base camp has it's own curated playlist. And for this year's Base Camp 3 located at one of our favorite locations –
Pirate Cove Resort
 – on the Colorado River, we chose Yacht Rock. The resort was an oasis for competitors and staff this year, and our mix of Yacht Rock added to our slice of paradise in Needles. Transport yourself now by listening to the playlist we knew would be a hit – classic Yacht Rock. Listen now on Spotify!